Q: The composition and function of no-till seeder? A: (Henan Xuchang Institute of Agricultural Machinery senior engineer Zhang Huanqing) No-tillage planter consists of three parts: in front of the rotary tillage part has two roles, chopped straw, rotary tilling the soil; the middle is fertilization, sowing, after the front fertilization sowing, sowing The depth and the depth of fertilization can be freely adjusted; behind the repression, it plays a role in covering soil. The no-tillage planter belongs to farmland protective machinery. It integrates smashing, rotary tilling, sowing, covering and repression. It can complete 6 operations at a time. Especially when harvesting corn, the wheat can be sown while smashing the straw. Labour intensity also saves time for harvesting and sowing. Q: No-tillage sowing more functions, how the effect of operations? A: The no-tillage planter can be used to sowing wheat and sowing corn. Its sowing depth is generally 3 to 5cm. The sowing amount of wheat is 0-375kg/ha, which can be arbitrarily adjusted; the sowing sowing of corn is 1-3 seeds per hole, and the amount of fertilizer is 10-50kg, which can be arbitrarily adjusted. Its fertilization depth is generally 5-8cm in the middle to the lower side, and the depth of fertilization is scientific and reasonable, avoiding burning seedlings and meeting national plant protection requirements. The row spacing and spacing of the no-tillage sowing machine are all designed to take into account the future harvest. The basic equidistant is the sowing of corn, which provides convenience for mechanical harvesting. Q: No-till planter requirements for supporting power and soil? A: There are two major categories: one is for 50 tractors, 10 rows for sowing wheat and 5 rows for sowing; the other is 12 rows for sowing wheat for 60 tractors and 6 rows for sowing corn. . The no-tillage seeder is consistent with other machine requirements. Soil moisture content of more than 25% cannot be used for operations. The soil moisture content is less than 5%. The operation of the seeder will affect the emergence rate and cannot be used. No-tillage planter soil moisture requirements are determined based on the needs of seedlings, farmers must not be vague. Q: Please introduce the types of no-tillage planters on the market today? A: There are not many kinds of no-tillage seeders currently on the market. They are mainly used for bulk grain crops, mainly sowing wheat and corn. If farmers find that there are other types of no-tillage planters, they must check whether they have passed the inspection by the quality inspection department. Do not buy the machinery without the agricultural machinery promotion certificate. Q: Can a no-till seeder be planted? Answer: No, no-tillage planter can not be used in the interplanting.

Goji Berry is taken as one of the most famous plants, which can be both for medical and eating use. The history of goji berry up-picking and for eating use has a long history of 4000years in China. People from different social hierarchies, from the emperor to ordinary people, take goji berry as a good component of medical prescriptions. Goji berry enjoys a great popularity from ancient to modern times, at home and abroad and it has a long lasting and profound life preservation culture.


Ningxia Goji Berry enjoys a great fame around the global due to its high quality standard; meanwhile, it is the only protected product of geographical identity in China, goji berry has a great popularity describes as "goji berry of the world is in China, goji berry of China is in Ningxia and Ningxia`s goji berry is the best".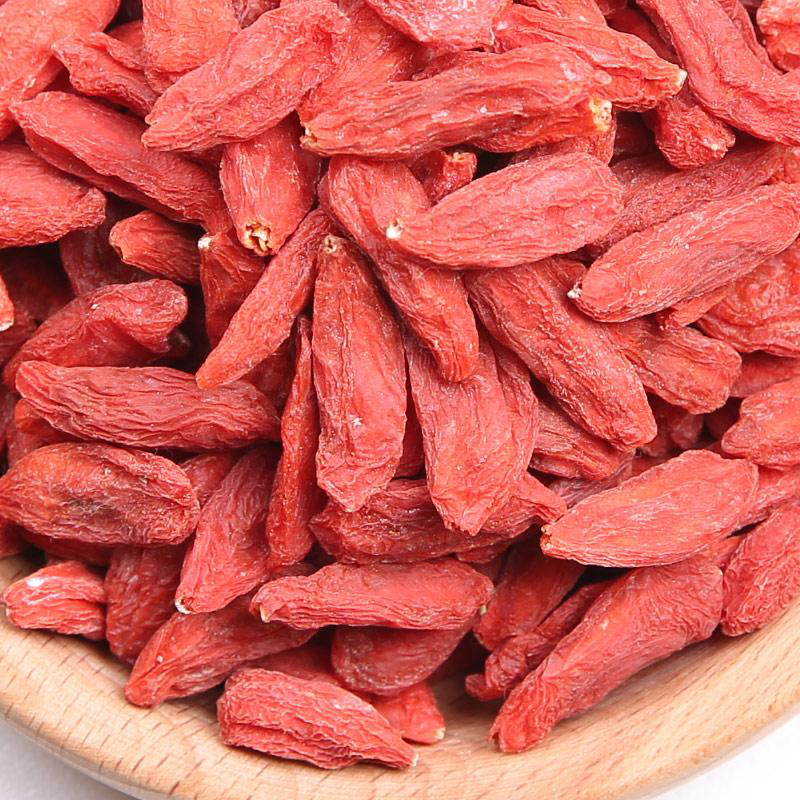 Specification:

Ningxia goji berry is categorized into 5 levels for experimental use. The fruit particles are required to have evenness in shape, with juicy fruit but not dry particle with impurities, humidity or bitten by insect.

Top Level:≤ 250grains/50g

Excellent Level:≤ 280grains/50g

Superfine Level:≤ 370grains/50g

First Rate:≤ 580grains/50g

Second Rate:≤ 900grains/50g

2. Identification

Color: The color of Ningxia goji berry should be red or dark red and lack luster.

Shape: Ningxia goji berry has big spindle size in shape with thin skin and full pulp. The particle is somewhat above normal size with style trace at the front of the particle and white stipe trace at the bottom.


Flavor: Ningxia goji berry is astringent at first bite then sweet, without ill-smell.




Goji Berry

Goji Berry,Goji Berry Dried,Ningxia Goji Berry,Fresh Goji Berries

Ningxia Bairuiyuan International Trading Co.,Ltd , http://www.cngoji.com